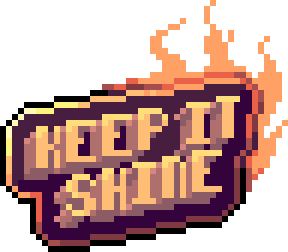 Keep it Shine
A downloadable game for Windows
Keep if Shine is a game made for the Low Rez Jam 2019
We used the theme Only in the dark
In Keep it Shine you play a treasure hunter, that explore an old mine in order to find an old relic.
But, your hunter realy don't like the darness of the mine and start to become crasy if he don't see the light for a short time.
Playable with a keyboard or a controler.
WASD / Arrow keys / Left stick - Move
Space / Y - Jump
X / B - First action
C / X - Second action

The game is not finished as we wanted to be, but good enought to be tested.
Please give us a feedback of your experience :)

We will update it on the next weeks.

Code : Nicolas LAURENT
Sounds : Aurélien MONTERO
Graphs : Nico Nowa
Download
Click download now to get access to the following files: